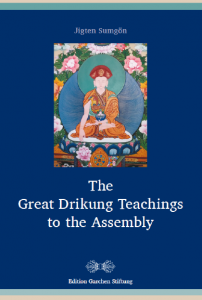 NEW
JIGTEN SUMGÖN
The Great Drikung Teachings to the Assembly
Translator: Sonam Spitz
In these teachings, Jigten Sumgön (1143–1217), the founder of the Drikung Kagyü tradition, covers the central themes of Tibetan Buddhism. He explains refuge, developing an altruistic mind, the different forms of dependent origination, how samsara and nirvana arise from the mind, why hearers, solitary realizers, and buddhas attain different awakenings, and how to correctly rely on the lama, among other topics. The thirty lectures are presented in a direct form that makes readers feel like they are among the assembly of disciples, and this text is an authentic resource for becoming acquainted with the Buddha's teachings in general and the teachings of the early Kagyü masters in particular.
279 pages
ISBN 978-3-945457-36-8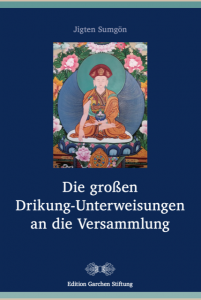 NEW
JIGTEN SUMGÖN
Die großen Drikung-Unterweisungen an die Versammlung
Translator: Katrin Querl
In seinen Unterweisungen widmet sich Jigten Sumgön (1143–1217), der Begründer der Drikung-Kagyü-Tradition, den Kernthemen der buddhistischen Lehre. Er spricht über die Zufluchtnahme, die Entwicklung einer altruistischen Geisteshaltung, die verschiedenen Formen von abhängigem Entstehen, davon, wie Samsara und Nirvana aus dem eigenen Geist entstehen, wie es zum Erwachen von Hörern, Alleinverwirklichern und Buddhas kommt oder wie der richtige Umgang mit dem Lama aussieht. Die Texte bieten Gelegenheit, den mündlichen Unterweisungen im Nachhinein beizuwohnen. Dadurch werden sie zu einer großartigen Quelle, um die Lehren des Buddha im Allgemeinen und die der frühen Kagyü-Meister im Besonderen zu studieren.
314 pages
ISBN 978-3-945457-33-7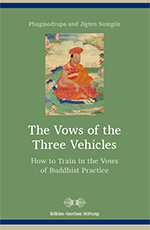 PHAGMODRUPA AND JIGTEN SUMGÖN
THE VOWS OF THE THREE VEHICLES
How to Train in the Vows of Buddhist Practice
Translator: Solvej Hyveled Nielsen
Certainty regarding appropriate conduct is crucial in all stages of the Buddhist path – specifically, knowing which actions are prohibited and which are encouraged. This book provides guidelines for the practitioner who has taken the vows of the three vehicles of Tibetan Buddhism. Here, Jigten Sumgön (1143 – 1217), the founder of the Drigung Kagyu school of Tibetan Buddhism, and his guru Phagmodrupa (1110 – 1170) answer the question: What does it mean to take the pratimoksha, bodhisattva, and Vajrayana vows?
140 pages
ISBN 978-3-945457-18-4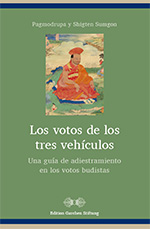 PAGMODRUPA Y SHIGTEN SUMGON
LOS VOTOS DE LOS TRES VEHÍCULOS
Una guía de adiestramiento en los votos budistas
Translator: Gonzalo Perilhou
Sin duda, en todos los estadios del camino budista es crucial tener en cuenta la conducta correcta y, en particular, conocer cuáles son los actos prohibidos y cuáles los que se fomentan. Así, este libro provee una guía para los practicantes que han tomado los votos de los tres vehículos del budismo tibetano. En él, Shigten Sumgon (1143-1217), fundador de la escuela de budismo tibetano Drikung Kaguiu, y su maestro Pagmodrupa (1110-1170) explican el significado de tomar los votos de liberación individual, de bodhisattva y del camino del diamante.
140 pages
ISBN 978-3-945457-18-4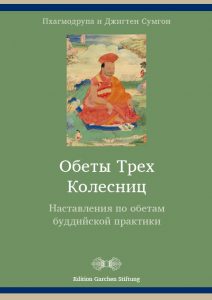 ПХАГМОДРУПА И ДЖИГТЕН СУМГОН
ОБЕТЫ ТРЕХ КОЛЕСНИЦ
Наставления по обетам буддийской практики
Translator: Vita Teivane
Уверенность относительно надлежащего поведения является ключевым на всем пути буддийской практики – в особенности, знание того, какие действия запрещаются, а какие поощряются. Эта книга дает наставления для практика, который принял обеты трех Колесниц тибетского буддизма. Здесь Джигтен Сумгон (1143–1217), основатель линии Дрикунг Кагью тибетского буддизма, а также его гуру Пхагмодрупа (1110–1170) отвечают на вопрос: что означает принять обеты пратимокши, бодхисаттвы и обеты Ваджраяны?
140 страниц
ISBN 394545719X, 9783945457191