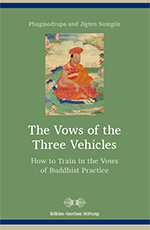 PHAGMODRUPA AND JIGTEN SUMGÖN
THE VOWS OF THE THREE VEHICLES
How to Train in the Vows of Buddhist Practice
Translator: Solvej Hyveled Nielsen
Certainty regarding appropriate conduct is crucial in all stages of the Buddhist path – specifically, knowing which actions are prohibited and which are encouraged. This book provides guidelines for the practitioner who has taken the vows of the three vehicles of Tibetan Buddhism. Here, Jigten Sumgön (1143 – 1217), the founder of the Drigung Kagyu school of Tibetan Buddhism, and his guru Phagmodrupa (1110 – 1170) answer the question: What does it mean to take the pratimoksha, bodhisattva, and Vajrayana vows?
140 pages
ISBN 978-3-945457-18-4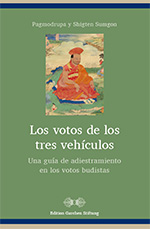 PAGMODRUPA Y SHIGTEN SUMGON
LOS VOTOS DE LOS TRES VEHÍCULOS
Una guía de adiestramiento en los votos budistas
Translator: Gonzalo Perilhou
Sin duda, en todos los estadios del camino budista es crucial tener en cuenta la conducta correcta y, en particular, conocer cuáles son los actos prohibidos y cuáles los que se fomentan. Así, este libro provee una guía para los practicantes que han tomado los votos de los tres vehículos del budismo tibetano. En él, Shigten Sumgon (1143-1217), fundador de la escuela de budismo tibetano Drikung Kaguiu, y su maestro Pagmodrupa (1110-1170) explican el significado de tomar los votos de liberación individual, de bodhisattva y del camino del diamante.
140 pages
ISBN 978-3-945457-18-4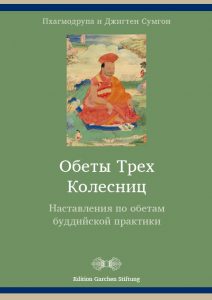 ПХАГМОДРУПА И ДЖИГТЕН СУМГОН
ОБЕТЫ ТРЕХ КОЛЕСНИЦ
Наставления по обетам буддийской практики
Translator: Vita Teivane
Уверенность относительно надлежащего поведения является ключевым на всем пути буддийской практики – в особенности, знание того, какие действия запрещаются, а какие поощряются. Эта книга дает наставления для практика, который принял обеты трех Колесниц тибетского буддизма. Здесь Джигтен Сумгон (1143–1217), основатель линии Дрикунг Кагью тибетского буддизма, а также его гуру Пхагмодрупа (1110–1170) отвечают на вопрос: что означает принять обеты пратимокши, бодхисаттвы и обеты Ваджраяны?
140 страниц
ISBN 394545719X, 9783945457191